In customer relationship management, every minute of your interaction is worth gold. You know how it usually happens: dozens of tabs are opened in a browser, a calendar with the highly-valued deals is set up, and a CRM tool is never closed. Such a mess in a workflow is a no-go for a self-respected sales department.
Automating the whole process from A to Z and implementing powerful add-ons might be a way-out. With that in mind, we decided to automate our sales routine with two super helpful tools.
What is Zapier and what role does it play in all this?

Zapier is a well-known workflow automation tool that can help you move information between your apps with the help of special Zaps. Thanks to it, you can connect numerous applications with each other without losing valuable data: it updates automatically. Zapier serves as a mediator in such integrations.
Earlier this year, HelpCrunch has made out its own integration with Zapier. Plus, here is this article where we elaborated on the way HelpCrunch utilizes Zapier inside the team. And it's easier than you might think.
Owing to our integration with Zapier, you can connect HelpCrunch to virtually every tool of your choice: a CRM system, a calendar, a support tool, to name just a few. But make sure you copied Zapier API Code from your HelpCrunch account → Settings → Integrations section before you do that.
What does it take? We show the exact instruction based on our own example. Read on and find out how we integrated HelpCrunch with the Pipedrive CRM via Zapier with no sweat.
How does HelpCrunch-Pipedrive integration work?
This is how the whole flow runs as in the example of HelpCrunch. Once a potential lead reaches out in the chat with an issue, customer success managers tag them with "Big Shot". Pipedrive then automatically creates this contact's profile in the pipeline along with the corresponding deal. After that, all is set up for Logan to perform his sales activities with no hassle.
Jumping ahead a bit, HelpCrunch and Pipedrive integration helped our sales expert Logan streamline the selling procedure, speed up closing deals, and catch up with new valuable leads in no time.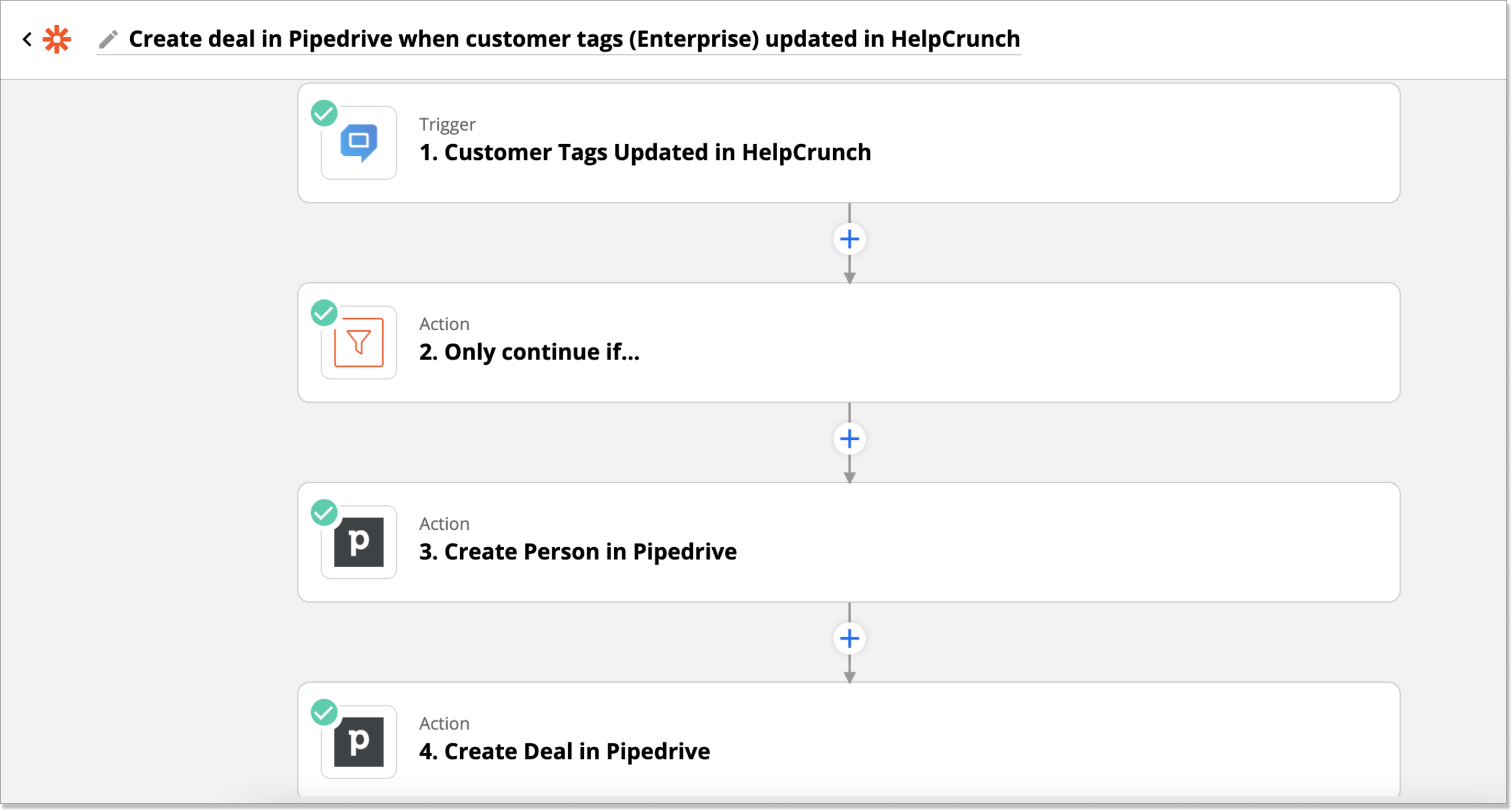 We broke down this procedure step-by-step.
🔄 HelpCrunch and Pipedrive automation process
To get the ball rolling, you need your HelpCrunch and Zapier accounts. Once you log into the Zapier account, everything is self-explanatory there. Decide on a pair of tools you want to connect with each other. For instance, HelpCrunch and the other one of your choice. Then, follow instructions from Zapier.
Step 1. Log in to the Zapier account, choose the application needed for retrieving data, and create a Trigger Event for the Zap to start. In our case, the application is HelpCrunch and the Trigger Event is "Customer Tags Updated".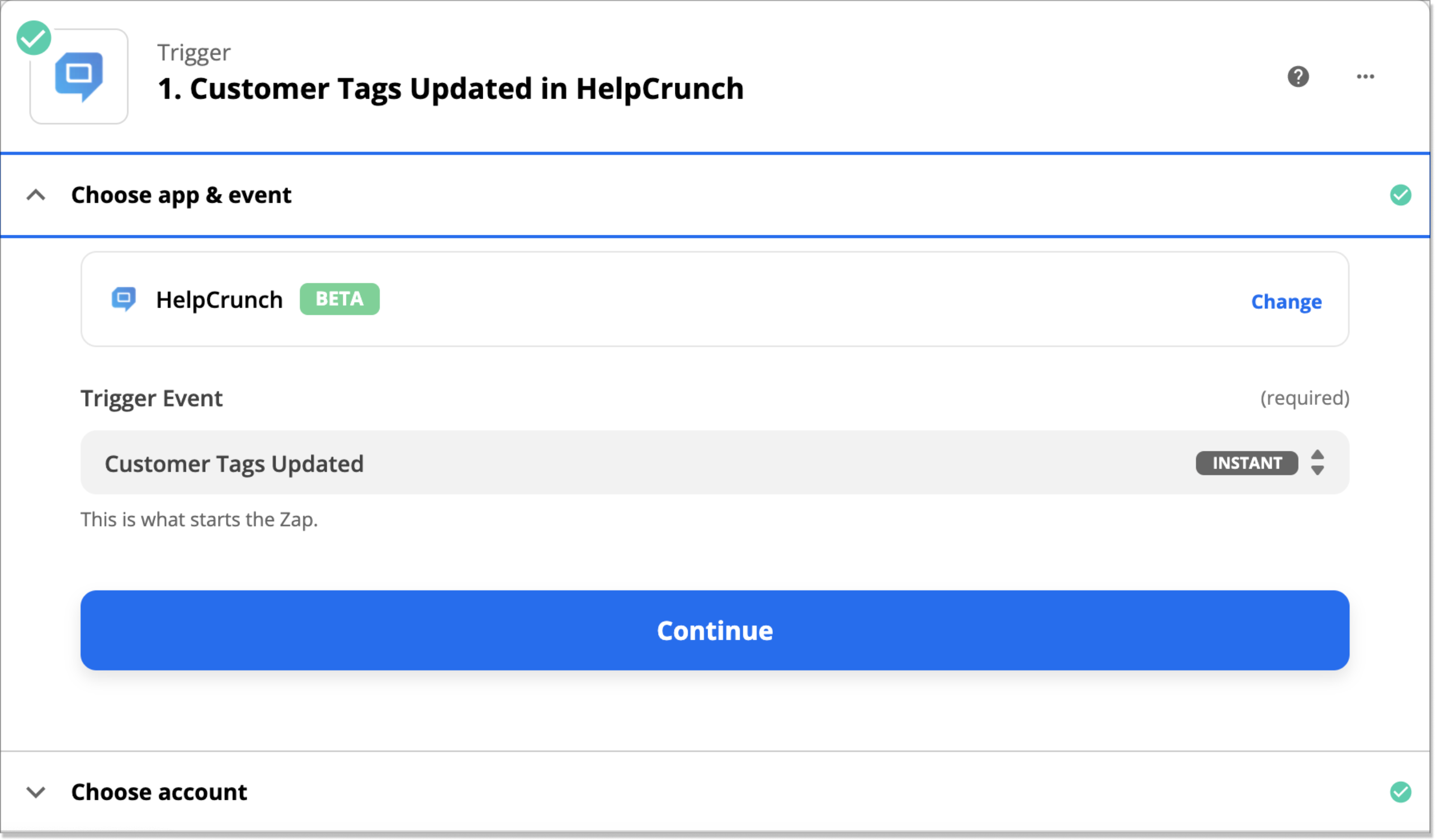 Step 2. At the Action stage, we need leads with a certain tag. The Action goes by the name "Only continue if...". This means that all actions you perform within your pipeline will run only if a customer is tagged with either an "Enterprise" or "Big Shot" marker in the HelpCrunch dashboard.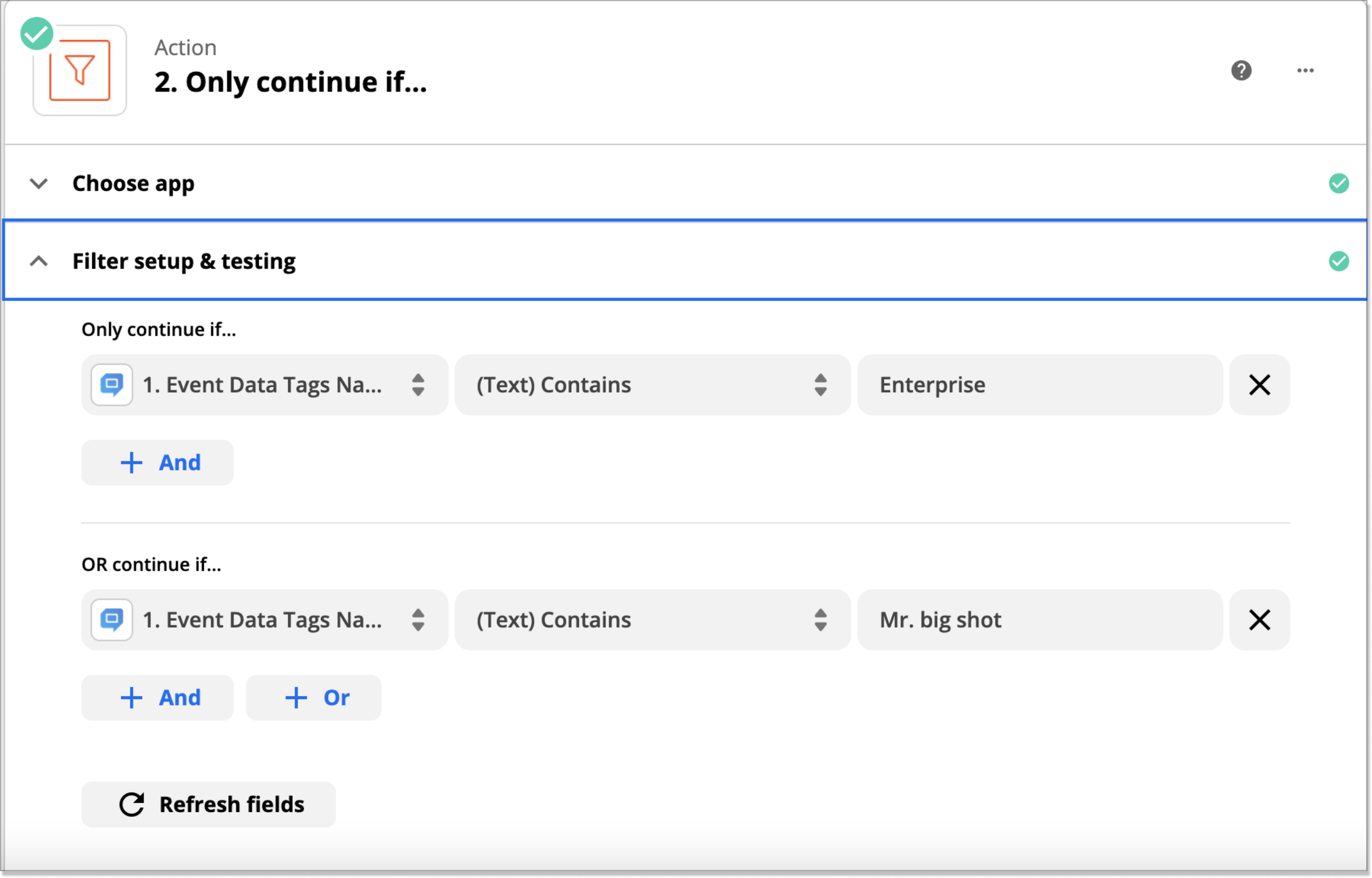 Step 3. Now, we choose the data that we want to share, an application where this data will be transferred, and an appropriate Action for that. Our Action event is "Create Person in Pipedrive".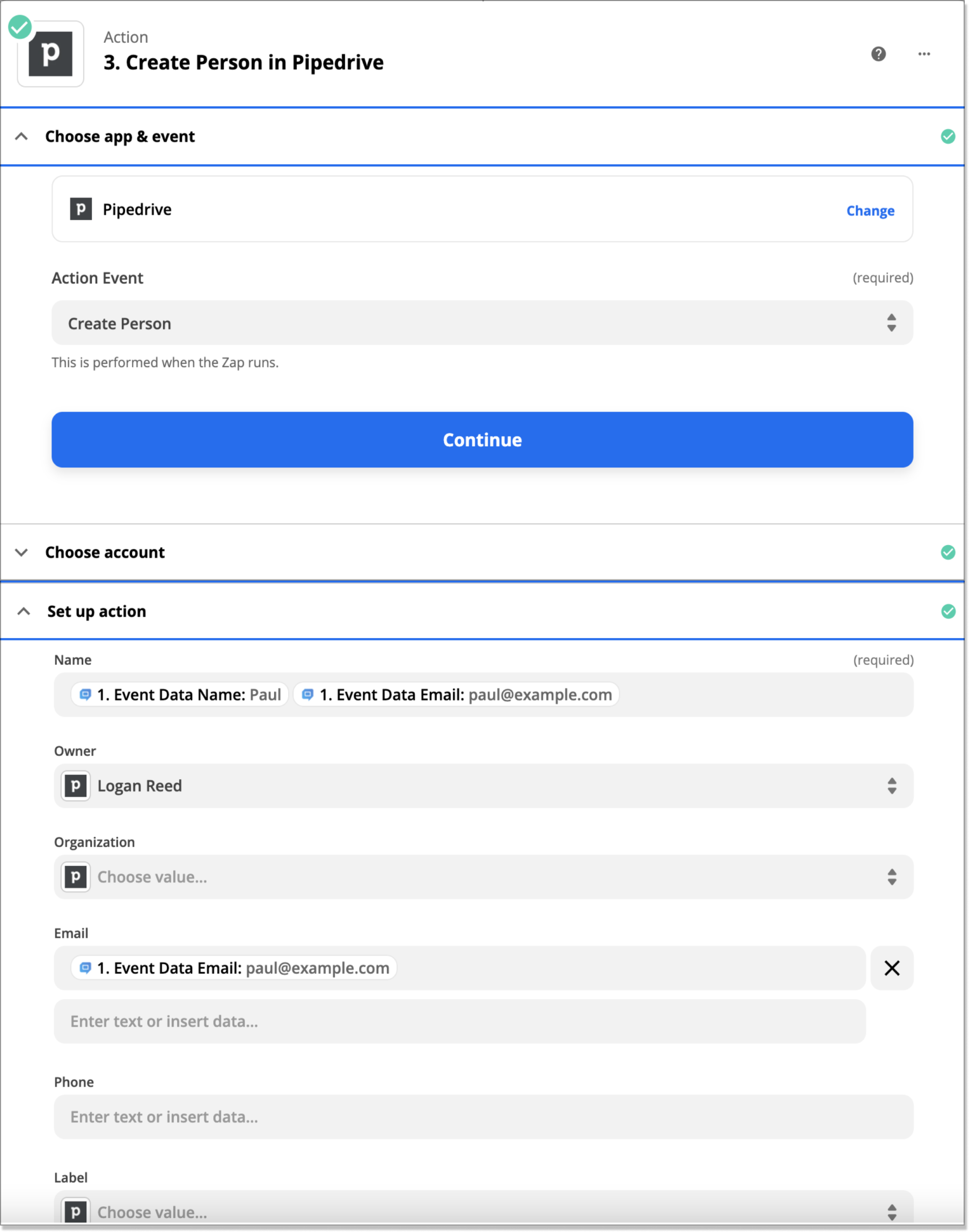 Step 4. To automatically receive all the information about new-coming leads, we set up HelpCrunch and Slack integration. The Dealbot sends notifications in a separate Slack channel each time a deal is added. It looks like this: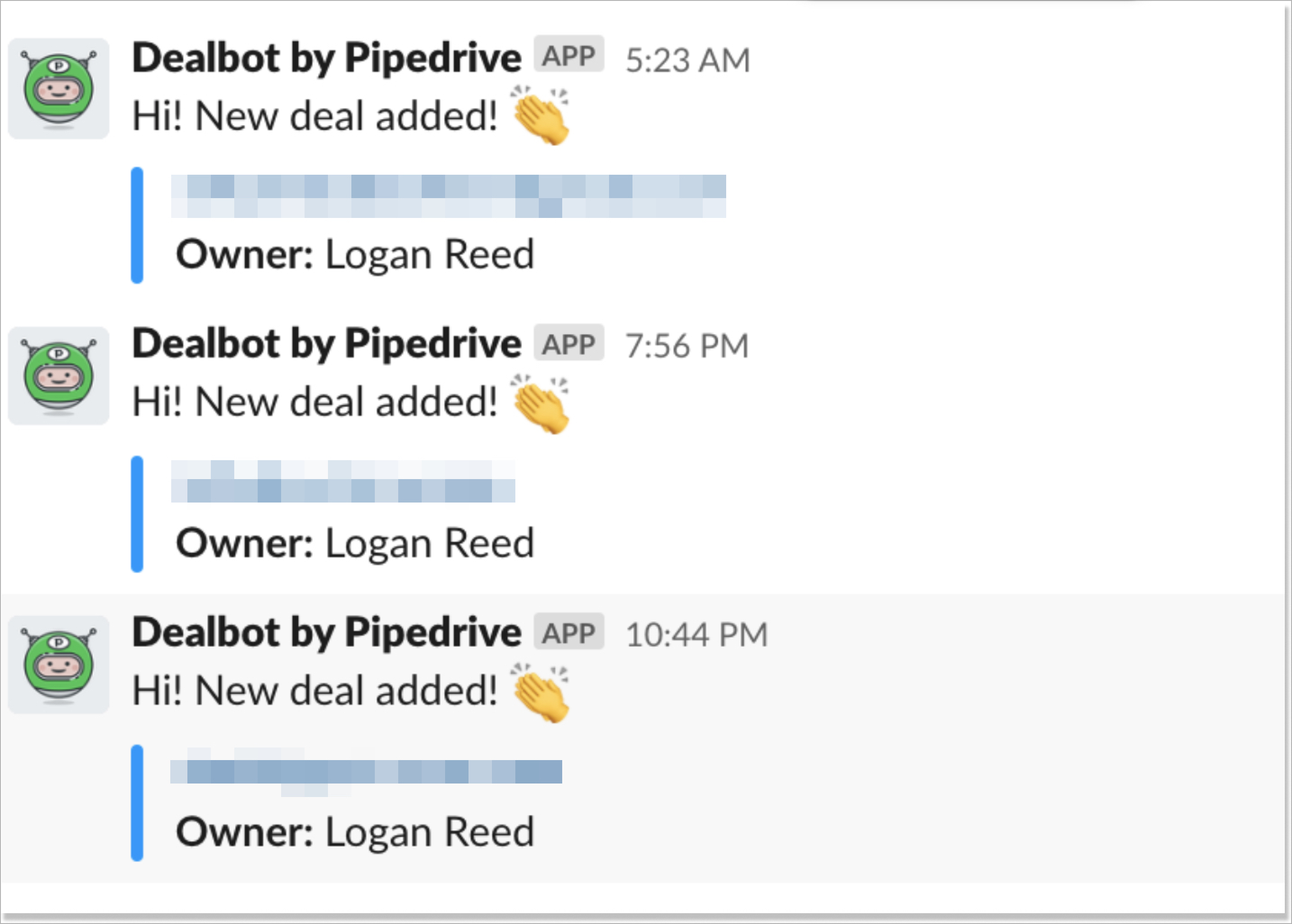 Bonus tip: In Pipedrive, you can also create a tailored workflow for those who scheduled a demo and help them move through the pipeline. It works this way:
Create Activity

Choose Activity type (Call, Meeting, etc.)

Choose Activity creator (sales manager, support rep, etc.)

Add a customer specifying their name and email

Create a deal

Send an email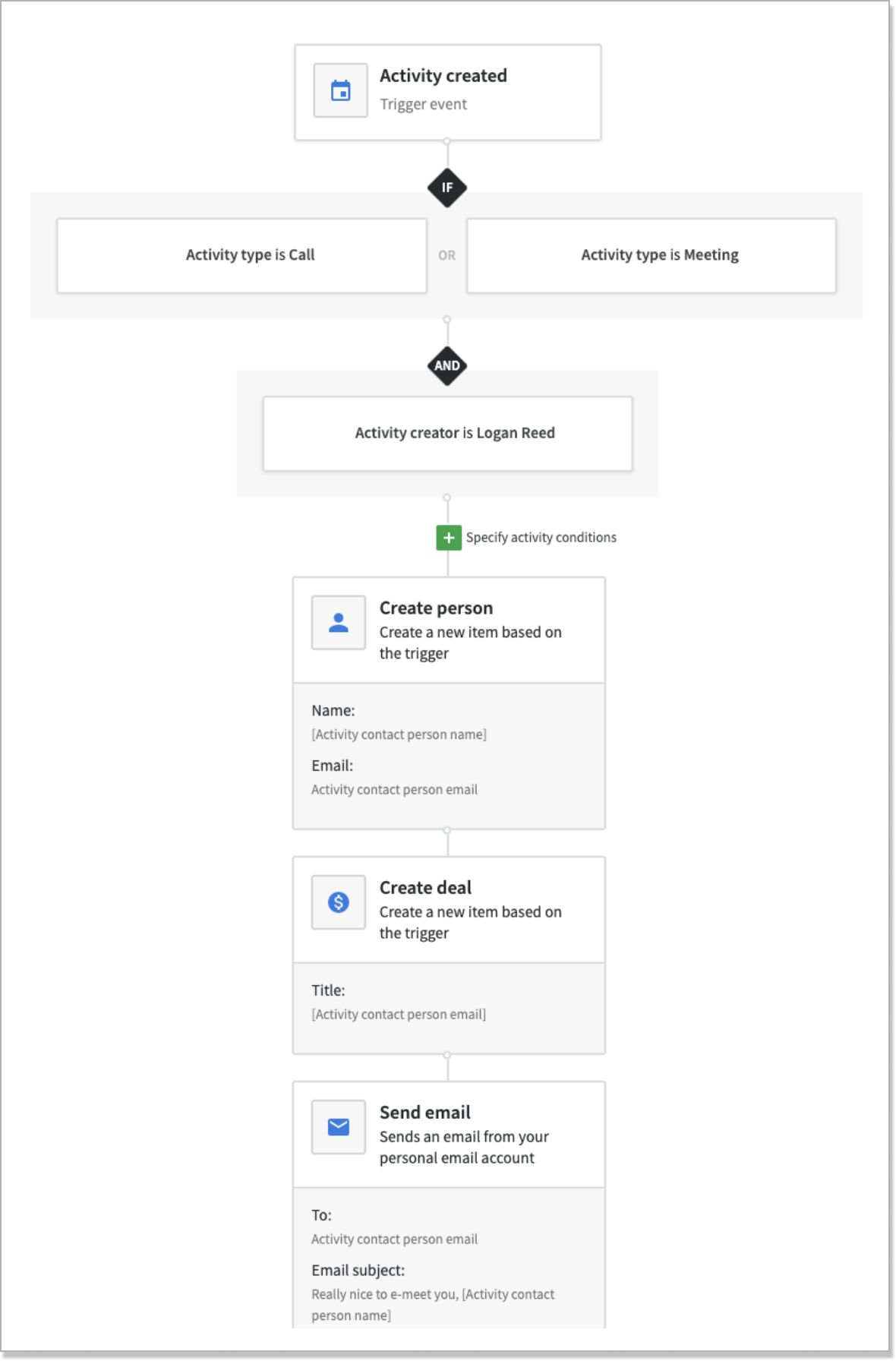 Thanks to the HelpCrunch and Pipedrive integration, our sales expert Logan has refined his workflow significantly. Keeping track of all incoming leads and processing them has become much faster than it used to be before, so nothing falls through the cracks now.

Do you want to test HelpCrunch and integrate it with your favorite tools along the way? Be sure you created a free account with HelpCrunch (you can have a 14-day trial, no credit card is required) and signed up for Zapier. Follow the instructions we discussed in this article, sync them with your business goals, and enjoy the benefits.