Start a free trial
HelpCrunch offers a free 14 day trial. You can create a free trial account by hitting 'Start Free Trial' button on virtually any page of the HelpCrunch website.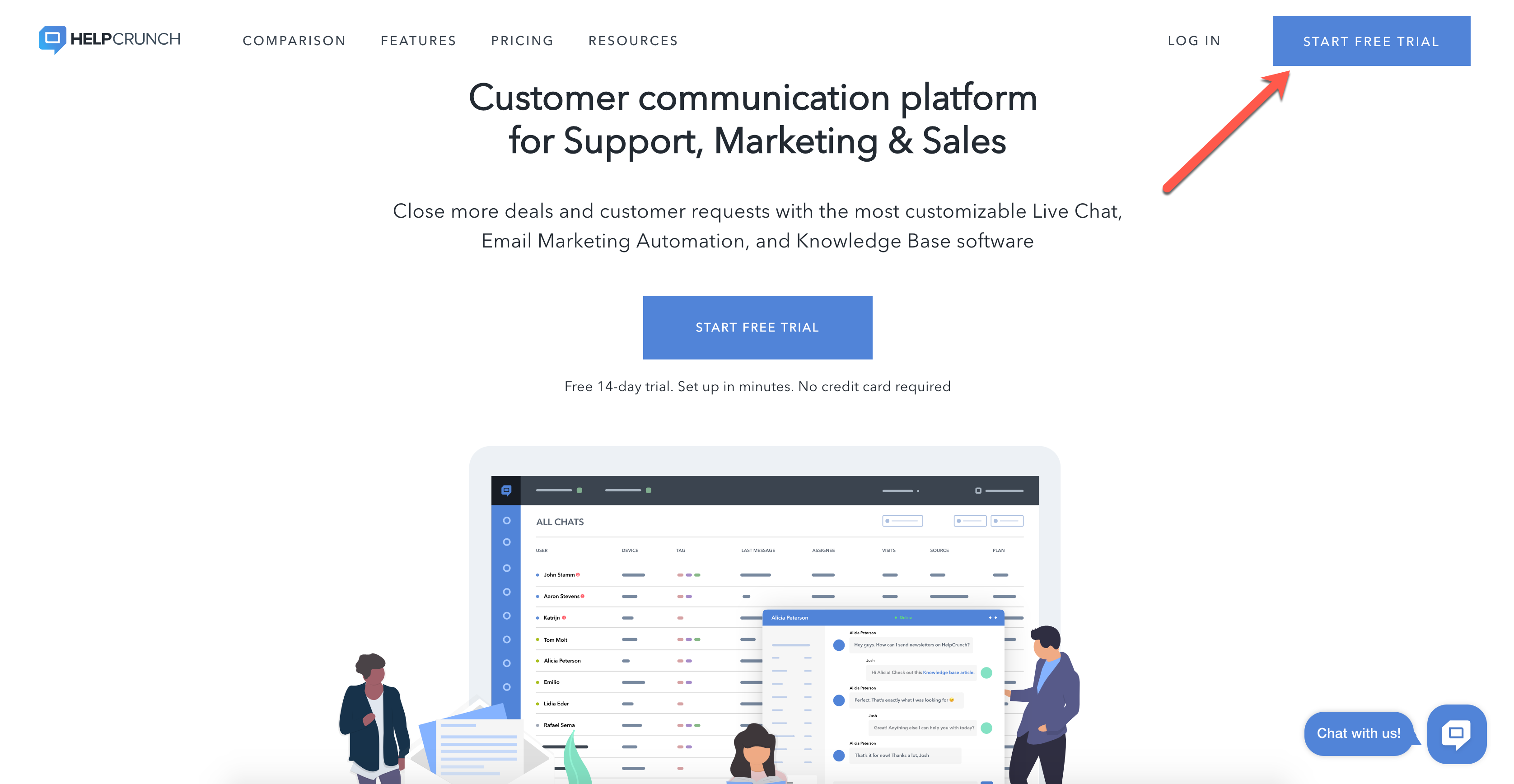 After clicking that button, you'll be asked to enter your full name, email, website or organization name, and password.
After that, you'll be redirected right to the installation wizard. You can either follow the installation steps or skip the wizard and install HelpCrunch chat widget on your website later from the Settings → Website widgets section.
Verify your subscription
Your current subscription details are specified in the Subscription section of your HelpCrunch account's settings. You can change your subscription plan, include more features or add more team members from there.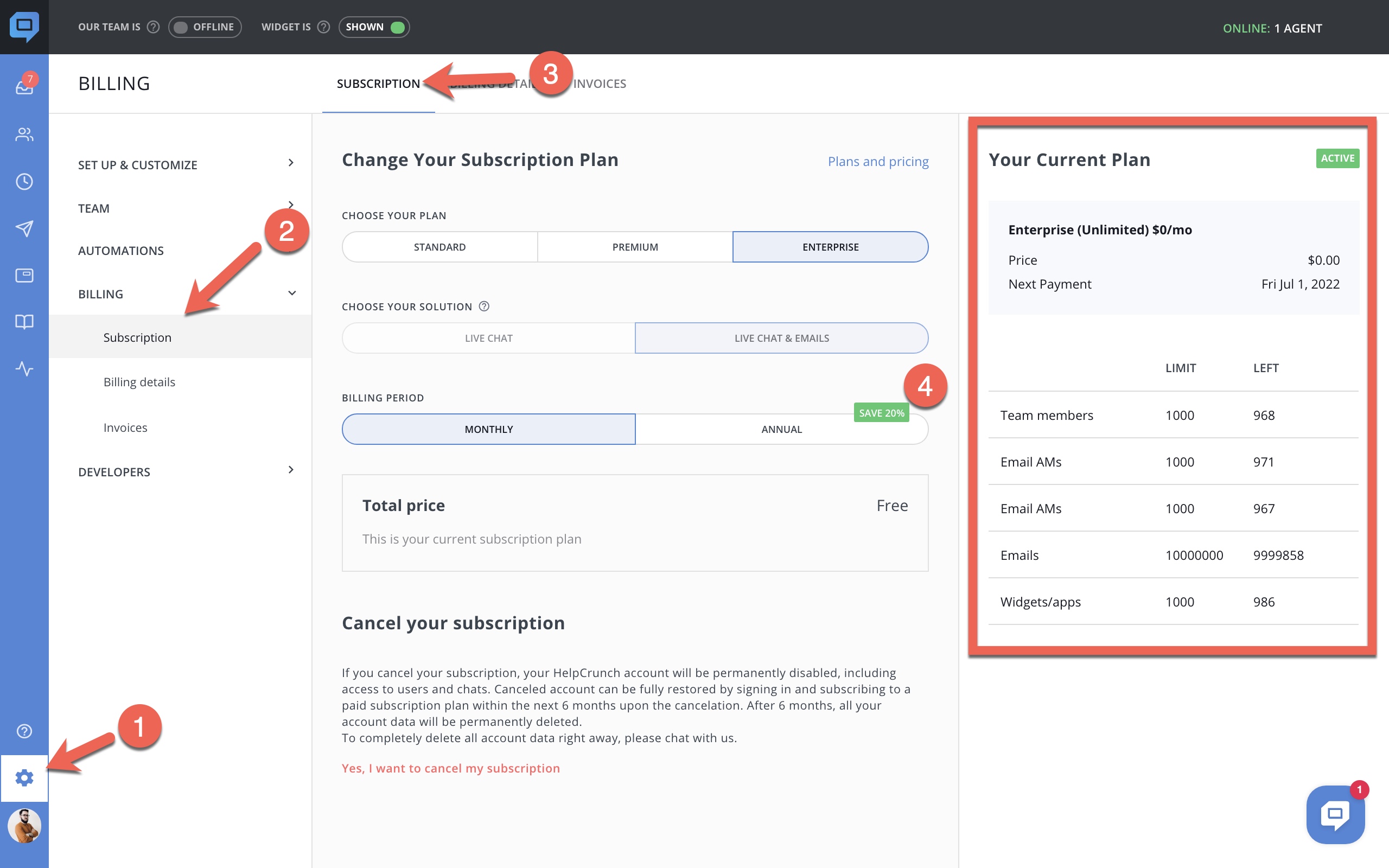 Choose / change subscription or add team members
You can change your subscription at any time, or add new team members in Settings → Subscription → 'Subscription' tab under the 'Change your subscription plan' section.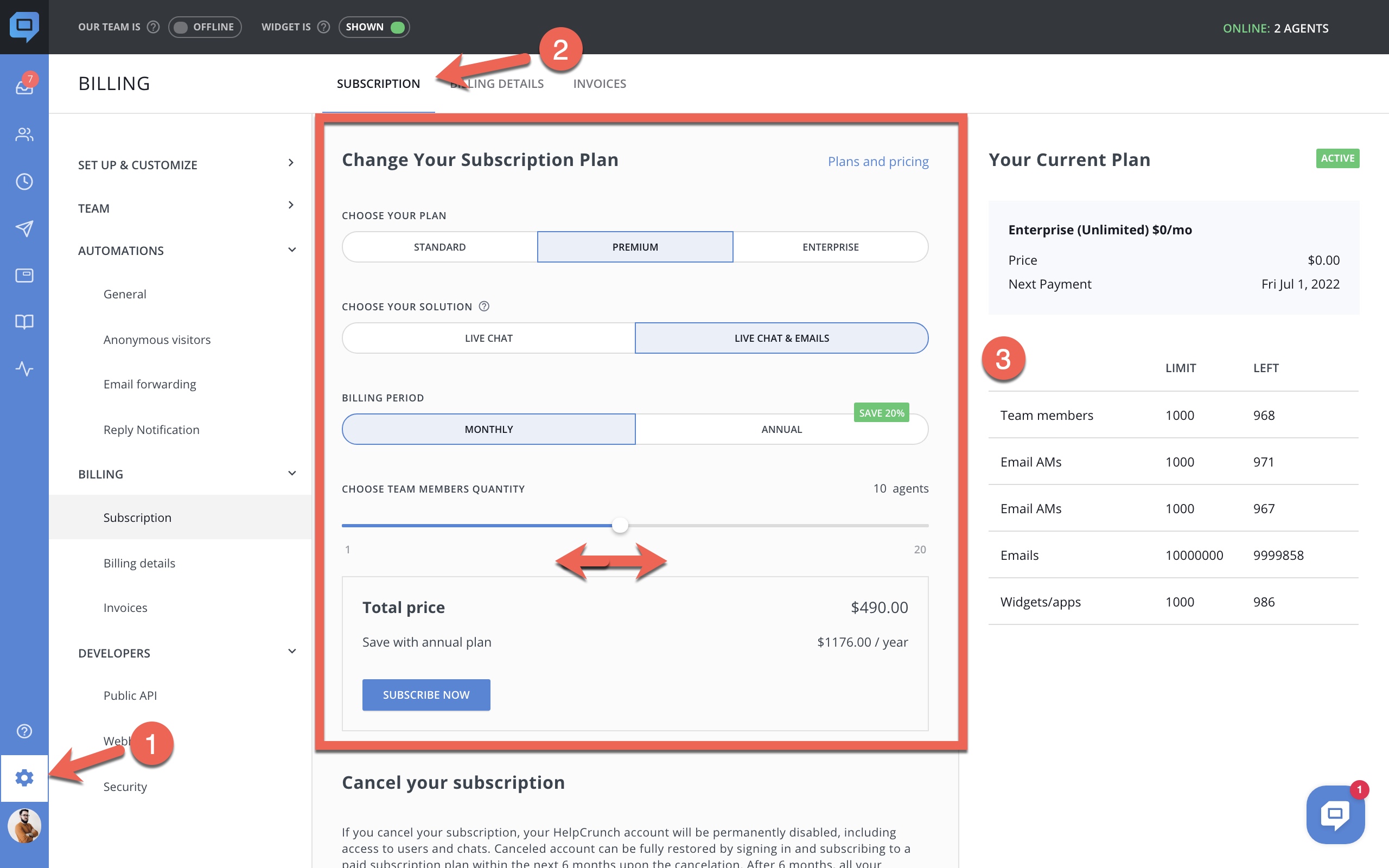 1. First, you need to your billing period. Note that an Annual subscription will save you 20%!
2. Then pick between the 'Live chat' or 'Live chat & Emails' solutions.
3. Choose your plan:
Standard: from $15 / team member / month
Premium: from $25 / team member / month
Enterprise: chat with us for details.
4. The total price will appear below once you choose your subscription. Now you can click the 'Add Billing Information' button.
Add your billing details
To edit the billing info, you need to follow a few simple steps:
1. Log in as administrator and go to the Settings→Billing details
2. Enter your company's info, your First Name, Last Name, Country, City, Zip/Postal fields.
3. Set the checkbox and fill in the Credit Card Number and CVV number
4. Click 'Save billing info' to save changes.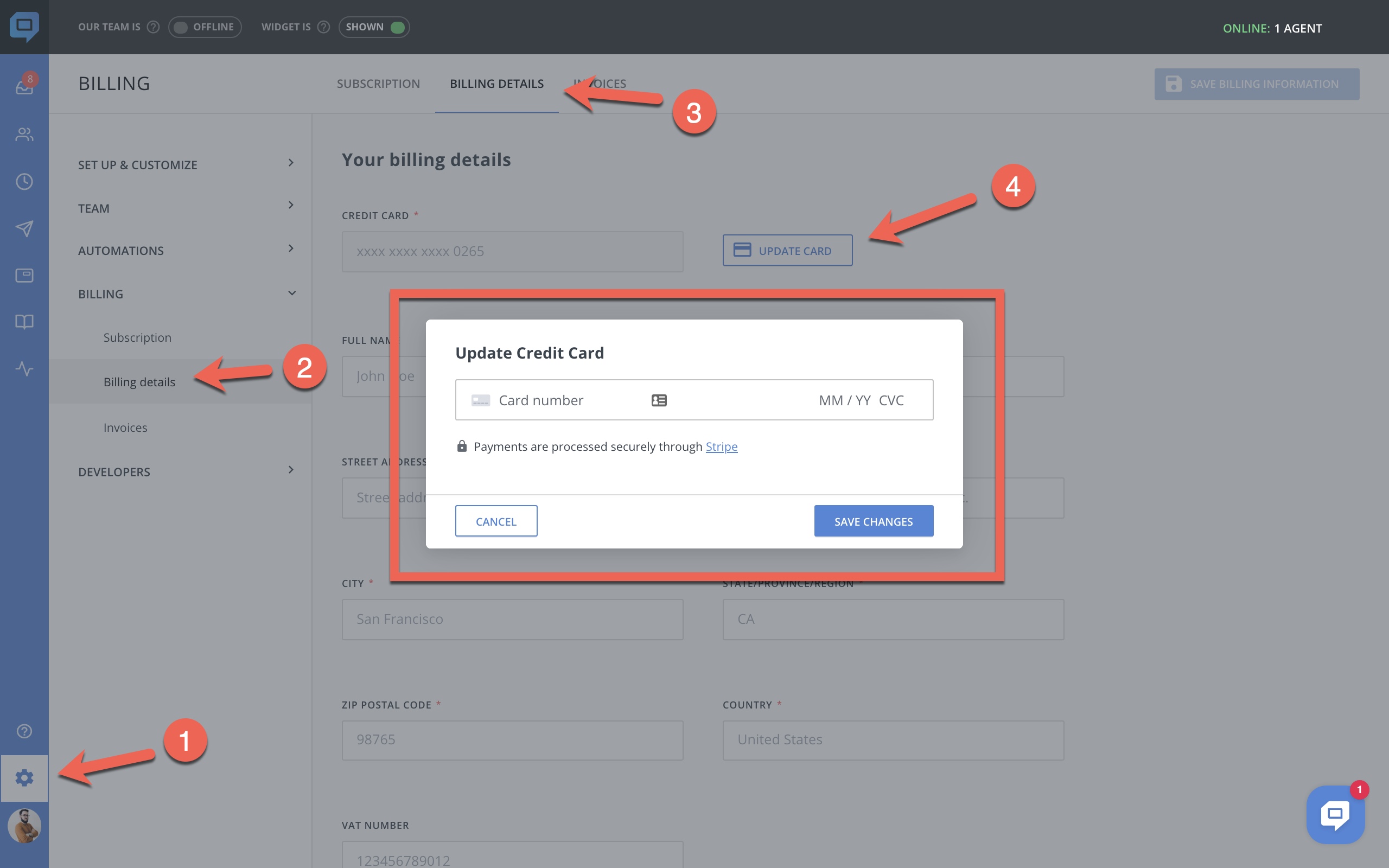 NOTE
After adding billing info, you'll be charged automatically after the trial expiration
Change your billing details
If you want to change your credit card info, you can easily update it in your account. Go to Settings → Billing Details and hit the 'Update card' button. After those, just enter a new code, expiration date, and CVC code.
Download your invoice
To download your invoices in .pdf format, go to Settings → Invoices and click the invoice you need. In the side menu choose 'Download invoice' button.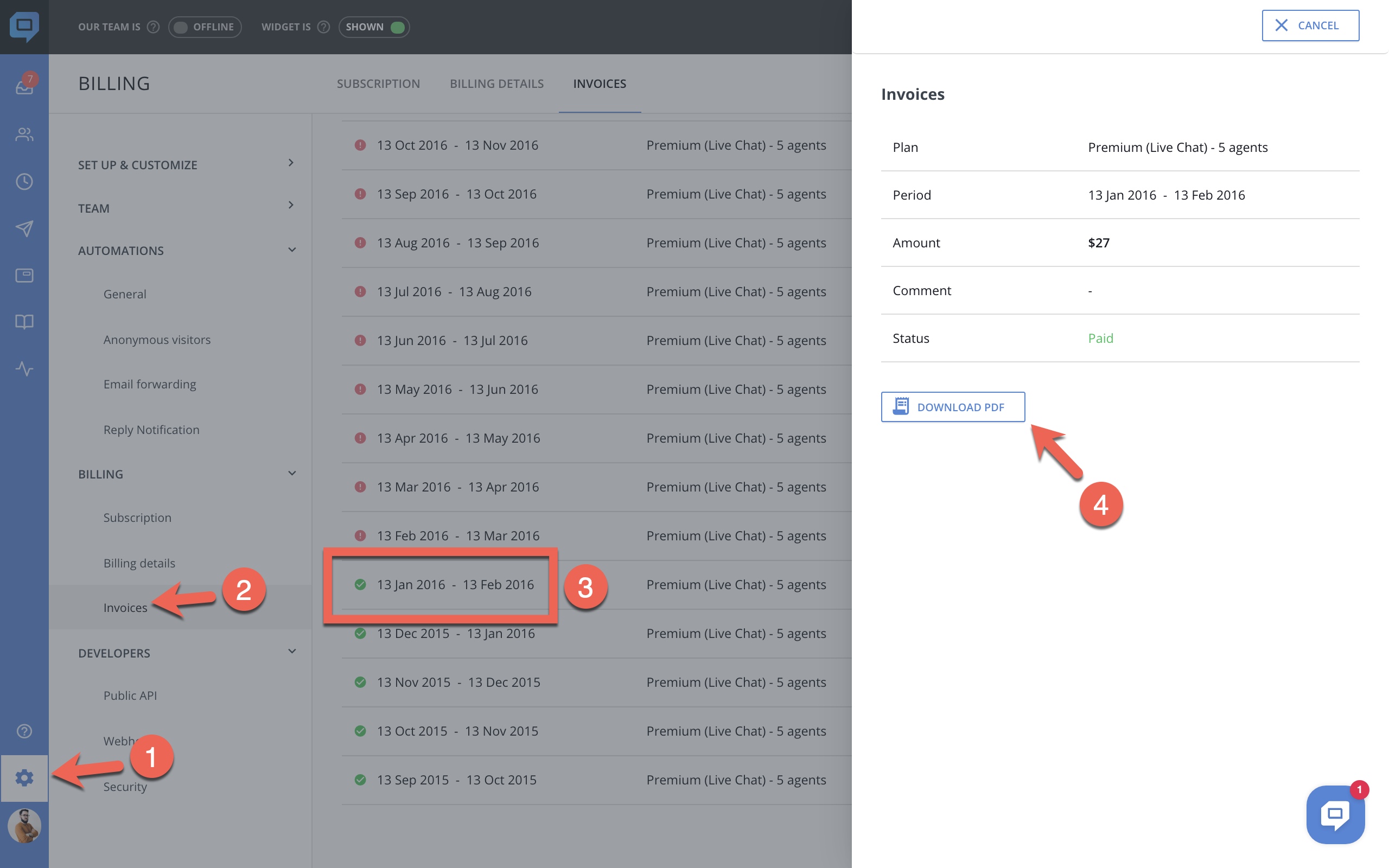 Subscription cancelation
You can cancel your subscription on the Subscription page in settings at any time, but before that, please contact our support team via chat. If you tell us what is wrong, we will do our best to make it right!
If you cancel your subscription, your HelpCrunch account will be permanently disabled, including your access to users and chats.